Issues
Pennsylvania deserves better! Our legislature continues to increase its funding and raising its salaries, while it keeps flat or reduces the funding of everyone else. During the past 12 years while Bryan Cutler has been our representative there have been:
No increases in public library funding
No cost of living increases for state pensioners
State school funding still less than 12 years ago

Legislator pay increased by over 25%
The four issues I am most concerned with are:
Education

Fiscal Reform
Environmental Protection
Taking on the $75 Billion unfunded pension liability
Property Tax Relief
Property Tax Relief & Increased School Equity
Property taxes are placing an ever increasing burden on the citizens of Pennsylvania, especially ones on fixed incomes. State education funding has decreased, increasing the need for greater local funding and higher property taxes. We must stop this spiral.
Consolidating school districts into county school systems provides an opportunity to both provide tax relief and create greater equity between schools. Pennsylvania is dead last in the nation because of the inequity between school districts. Consolidating into county school districts using my plan, provides an opportunity for:
Cost savings
Greater equity between schools
The ability to keep funds local, not sent to Harrisburg
Relief from excessive property taxes
Schools to tax pipeline companies for the value of their pipelines in PA
Under my plan, school districts would be consolidated into county systems. Funding the county schools would be up to the county school board and could come from a mixture of property, income, and sales taxes. Unlike Act 76 where all the money would go to Harrisburg, my plan keeps the money local. Given the state's inability to pass budgets or keep from redirecting funds, keeping the money local is critical. This would also provide an opportunity to balance the equity between schools and accelerate the use of the new Fair Funding Formula for state funds. School districts with debt would have to keep property taxes in place until the debt is paid off. By allowing schools to tax pipeline companies for the property value of their pipelines, debt payoff could be dramatically accelerated. The following are some specific benefits:
Consolidating School Districts
Reduce overhead
Increase equity
Local funding from income, sales, or property taxes
County control of revenue source
Money does not go to Harrisburg
Greater equity in schools and in tax burden
Property Tax Relief
Reduce or remove property taxes
Remove after debt is paid off
Pipeline companies pay property taxes on their pipelines
State Funding
Consolidation puts Fair Funding Formula winners and losers together
Use as an opportunity to balance state funding between districts
State should assist consolidation with increased education funding


---
Education
I have served as a high school teacher and college professor for 17 years and have also served as special assistant to the PA Secretary of Education. As a result, I have some definite ideas for improving education in the commonwealth. The fact that PA is 50th in the nation when it comes to equity between school districts suggests that we no longer believe in the concept of a commonwealth.
The state budget used to provide 54% of education funding, an average amount for most states. Today the state provides 32%. The cost of education has not decreased. Property taxes have been raised to fill in for the state. The state likes to make mandates for school districts but they do not provide the funds for them. Some state funding that is characterized as "education" is actually money to being directed to the pension system because the state failed to properly fund the pension for almost a decade. The new Fair Funding Formula is a good start on allocating funds but it does not address 92% of state funding. Most of the money the state allocates for education is distributed based on student headcounts from 1991. It will take at least 2 generations for the current plan to properly allocate funds. State funding for higher education has also decreased. It is now at 28% for state schools. It is now less expensive to send a student to an out of state school than it is to attend a PA state school as an instate student. All of this demonstrates that education is not important to our legislature.
Going forward I support moving up the timetable on the Fair Funding Formula. More money also has to be allocated to education, at least as much as was provided 12 years ago. While some additional funds did make it into the budget for career and technical training, more must be done. Thaddeus Stevens College of Technology is a tremendous success and we should seriously look at duplicating it around the state to meet workforce demands. My children were residents of Florida when they graduated from high school. Based on their grades and SAT results they received scholarships to Florida state universities. They both graduated from college without student loans. Georgia has a similar program. We must look for ways to make sure our high school graduates can attend postsecondary education of some type.
Properly allocating state education funds, and increasing them, will allow property taxes to be held in check. We should also look for ways to incentivize school districts to consolidate. I have taught in county school systems and it works well. It allows for economies of scale and changes in population levels. I have taught in schools with more students than many entire school districts in PA. Recently Secretary DeVos has been suggesting the use of federal funds to arm teachers. I absolutely do not believe that arming teachers is a good idea. Period. We must work to resolve the problems that lead to school shootings rather than trying to turn schools into armed camps.
---
Fiscal Reform
Two years ago I ran for office because the state legislature was 9 months late approving a budget. This created a hardship for many people and organizations and yet it seemed to be accepted as normal. As I look at state budgets it is no wonder that rating agencies have downgraded the state's debt rating 6 times. When I was studying for my MBA at Harvard I analyzed over 1000 case studies. When analyzing our state's finances, I am astonished that anyone finds it acceptable. It is almost all smoke and mirrors. State departments have been cut to the point that they are no longer effective. After 111 months of a bull market we have only 6 hours of rainy day funds available in the event of downturn. One-time revenue sources have been used to cover over $1 Billion of the budget. Clearly there is a structural deficit that has not been addressed. Resources are being withdrawn from the state but few taxes are applied to them. Money is taken out of off-budget accounts to pay for state operations on the flimsiest of excuses. Finally, our legislature is only in session a fraction of the year and yet they receive the second highest compensation in the country.
The legislature needs to produce real budgets that accurately address the real cost of governing. Not raising state taxes is not the only measure of success. A severance tax should be placed on gas production. Municipalities should be allowed to tax pipelines as property as they are in neighboring states. The legislature has raised its salaries by over 25% in the last 12 years. Their pay needs to be cut to the median income level for the state. Pennsylvania law supports transparency but there is almost no transparency in the budget process. There need to be real debates on what the state's priorities are so that money can be allocated appropriately. Right now if is all done behind closed doors and then voted on before most people even have the chance to read the budget.
---
Environmental Protection
Climate change is upon us and it will have a huge effect on the state. If temperatures continue to rise, our agricultural base will suffer greatly. The state needs to be planning now for the conditions we expect in the next few decades. The Department of Environmental Protection needs to have its funding levels increased so it can adequately regulate the production of fossil fuels in PA. This industry has demonstrated a willingness to cut corners and pollute areas unless they are adequately monitored. There is demand for more and more pipelines to move fuel from the state. Currently companies decide where they want to put their pipes, submit for approval and then threaten eminent domain if people do not want to let them dig up their land. This process needs to change. The state should determine corridors for pipelines, perhaps along the turnpike or other main roads. Companies can then seek approval to use those corridors. Private companies should not be allowed to use eminent domain to force landowners to give up control of their land. Having your forest clear cut because some company decides they want to put their pipe there needs to stop.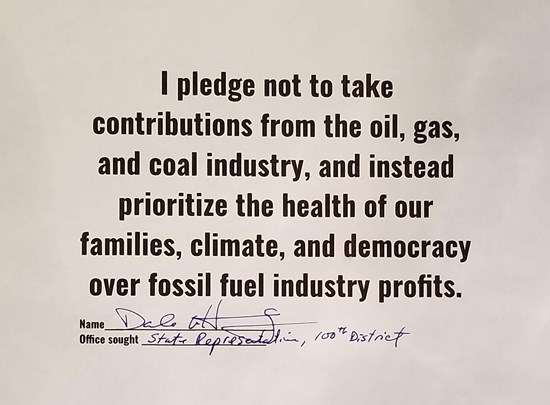 ---
Unfunded Pension Liability
The Pennsylvania Legislature made a conscious decision to stop funding the state employee pension systems. To be clear, the employees, like teachers, continuned to have money deducted from their pay to go to the pension fund. The state did not put in its funds. It also directed the school districts to not pay in funds for a number of years. This went on for almost a decade.
The Legislature also decided to give themselves a more robust pension (3% per year) and upped the other employees to 2.5%. Of course contributions to the pension fund had been based on a 2% payout. All of this contributed to a pension fund that is now has an unfunded liability of $75 Billion.
One way to think of this is to compare it to a mortgage. By the time you pay off a $100K mortgage you will have paid closer to $150K. Your liability is $150K. If you pay down the principal quicker or put down a large downpayment, you can reduce the overall liability. On the other hand, if you fail to make payments, or only pay interest, your liability can increase. That is where we are now. In 2016 the unfunded liability was $50 Billion. Now it's $75 Billion. At some point it will be a crisis and I believe that is what our representative is waiting for.
In a townhall meeting, Bryan Cutler called into question the solvency of the pension fund. He suggested that at some point pensioners may have to take a reduction in their pension checks. This problem was caused by the actions and inactions of the legislature and they want to put the burden on people living on their pensions.
It will take effort but this crisis can be averted. It will require immediate action, however, as the problem grows by $172 per second. The clock is ticking.